| | | |
| --- | --- | --- |
| | Products | |

Foodstuffs , Meats, Fruits, Vegetables Sterilizers
YXQ.KLG Series Fast Cooling Foodstuff Sterilizer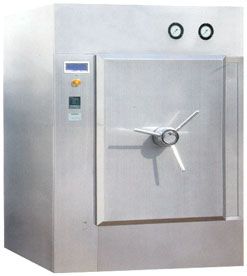 YXQ.KLG Series Fast Cooling Foodstuff Sterilizing Cabinet
Basic Function: It uses full steam as sterilizing medium, adding pressure method. It is suitable for sterilizing all kinds of high temperature proof sealed food. After sterilization, it uses spraying system to fast cool them to improve production efficiency and bulged cover condition.
¡¡¡¡ Equipment Body: Horizontal rectangle structure. High-quality acid-proof stainless steel 304 inner,stainless steel wiring-drawing plate for decoration case. The sealing door can adopt double-door-leaf auto-moving door, mechanical door or bar-supporting door.
¡¡¡¡ Control system: It can adopt computer-control or PLC+touching screen system. It adopts temperature time and FO value double-monitor to ensure sterilizing results. The system inspects temperature correctly and runs steadily. It has complete sterilizing record.
¡¡¡¡ Pipeline system: The most excellent system in the trade is used in the machine. Main parts are Burkert high-temperature air-operated valve,Grundfos circle water pump.


YXQ.KLG-210

YXQ.KLG-225

1500¡Á750¡Á1050

3000¡Á750¡Á1050

2006¡Á1340¡Á1900(Single)
2296¡Á1340¡Á1900(Double)

3506¡Á1340¡Á1900(Single)
3796¡Á1340¡Á1900(Double)

55

105

800

1500

Compressed air(Mpa)

0.5-0.8

0.5-0.8

Power (Kw)

1

1.5

Net weight (Kg)

2000

3000

Design pressure (Mpa)

0.165

Design temperature (Kg)

129
The product information will probably be updated without notice, if that happens, please refer to the latest technical material.