2L Dental Steam Sterilizer Series
1. It adopts European B standard with 3-time pre-vacuum preceding vacuum drying. Residual humidity is less than 0.2%;
2. Specially design for dental clinic field , it could sterilize 12 pieces handpiece at same time, simplely and efficiently.
3. Smaller cubage for convenient moving and installing.
Parameters: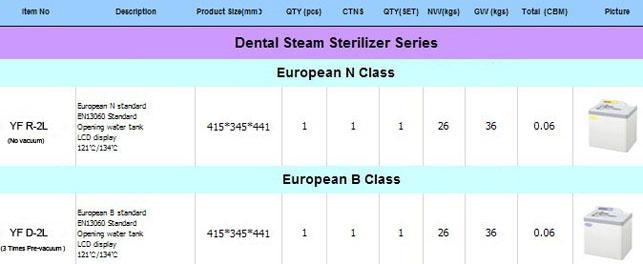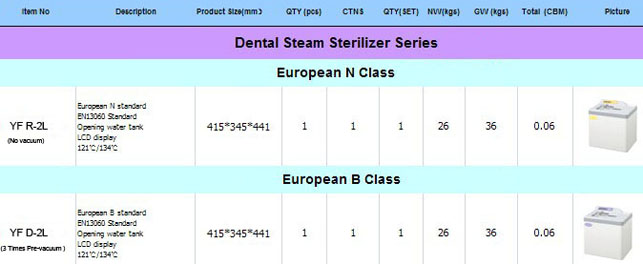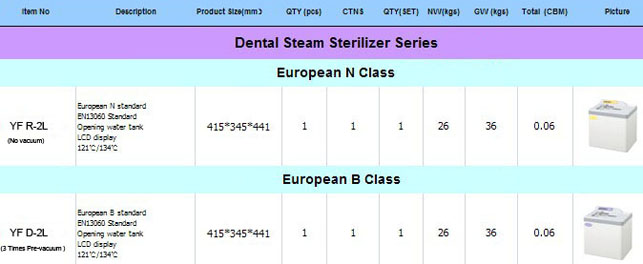 High quality accessories:
High density air filter,eliminating impurity in air,ensuring the returned air dry and pure.

Efficient double-head vacuum pump,low noise,vacuum ability could get -0.92Bar,double head ensure the balance during working and stable vacuum state in the chamber.


Electronic data output,the sterilization information can be saved into memory disk as a txt file,in connection with computer to analysis,realizing digital sterilization.


The multiplex tray holder of sterilizer is single stretching molding,painting and polishing treatment,with good compression bear and suit various load.It could set 5 trays on the holder simultaneously when revolve it 90°.


Circular heating little difference in temperature.
Pressure-prevention and corruption-resistance makes it highly reliable.
Alloy heating loop protects against damage by no-water heating.
Spcious cavity makes it easy to clean.

Original fuzzy control system driven by steam generator adoptsPWM(pulse with modulation),able
to discriminate the fine differences in temperature allowances and to adjust the modulated waves
correspondingly thus making temperature rise at the same speed each time.


Chamber is made of purple glass surface copperplateŁ¬
plastically metamorphosed by the extrusion under 500-ton oil pressure.


Stable ULKA water pump made in Italy.
| | |
| --- | --- |
| | PHILIPS chip, famous world, powerful memory, process data fast and reliable. |
| | MAXIM is the worldwide leader of analog, mixed-signal, also head of high frequency and digital circuit research, development, manufacture, smooth circuit controlling. |
| | MOTOROLA precise-level pressure sensor, single crystal silicon thin film semiconductor strain gauge, can accurately sense the pressure within the sterilizer. |
| | ST semiconductor, proud of high efficiency silicon, make the control more accurate and rapid. |
| | ATMEL Corporation, the world's advanced semiconductor design, manufacturing and marketing leader. ATMEL microprocessor, safe, reliable and feature-rich. |
| | OMRON electromechanical conversion structure, powerful loading capacity, 10 life-time. |
| | SD Japan expert of temperature sensor, swift measurement, ready to deliver in time the temperature inside the sterilizer, superior. |