29L Benchtop Class B Steam Sterilizer for Extra-long Instruments with LCD Display
Class B-AAS-29 is a sterilizer special for extra-long instruments, sterilization chamber depth can reach 620mm, effectively solve the problem such as laparoscopy and other long instruments which cannot be sterilized in the ordinary benchtop sterilizers.
u Performance specifications
² Fully automatic table top autoclave with pre-set programs.
² Rapid post sterilization vacuum drying.
² Complies with European standard EN13060.
² Built-in independent rapid steam generator ensures quick sterilization cycles.
² Equipped with an original Japanese imported vacuum pump that is extremely quiet and ensures high vacuum efficiency.
² With one flash water tank and used one water tank.
² The LCD display uses a dynamic graphical appearance that can present the whole process of sterilization, including all stages of time, temperature, pressure and so on. It also shows water shortage, locking door alarm, printer not connected alarm.
² Easy and friendly user's interface: all operations are controlled with only 4 buttons. 3 buttons control the program selection and 1 button starts the sterilization cycle.
² Self-initialization when work in different altitude.
² Imported bacteria filter increases filtration efficiency and extend maintenance period.
² With B&D test, Helix test, Vacuum test.
² 304 Stainless steel chamber & three layers aluminum trays facilitate better heat conduction.
² There are 16 different kinds of languages to meet the needs of users in various countries: Chinese, English, Spanish, German, Lithuanian, Polish, French, Czech, Hungarian, Romanian, Dutch, Latvian, Italian, Portuguese, Russian, Coratian.
u Safety and Monitoring
² Double safety protection system prevents the cycle from starting if the door is not correctly locked. This system also prevents the door from opening if the pressure inside the chamber is not equal to atmospheric pressure outside the chamber.
² Pressure safety relief valve is with CE approved. It prevents over pressure in the chamber and steam generator.
² Branded circuit breaker automatically trips when the current is not stable, which prevents the damage of device.
² Automatically detect and identify the exact cause of any problem, and issue a specific error code on the LCD screen.
² Water level main switch in the main tank controlling the min and max water level.
² Automatic warning for maintenance.
² Air vent of cooling fan increases the cooling efficiency.
u Documentation
² Optional Built-in Printer: sterilization report can be automatically printed when each cycle end.
² USB Port: it is used for connecting a USB sticker, all sterilization data are automatically written in the USB stick, and can be ready directly in any PC and stored electronically.
² Internal Memory: the last 20 cycles can be automatically stored in the autoclave system, which can be printed out at any time.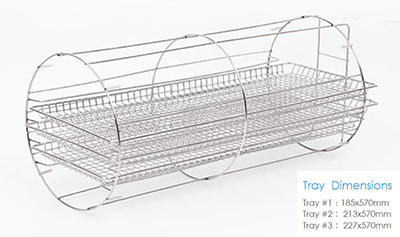 u Parameters
Model No.

CLASS B-AAS-29

Chamber volume

29L

Chamber Dimension

Ø247×625mm

Overall Dimension (WxHxD)

490×455×860mm

220/110V, 50/60Hz

Power

2200W

Weight

65Kgs

3PCS Stainless Steel net trays

Trays Size

Tray 1: 185x570 mm
Tray 2: 213x570 mm
Tray 3: 227x570 mm