| | | |
| --- | --- | --- |
| | Products | |

Tabletop Steam Autoclaves

16L
CLASS B-TMQ-210B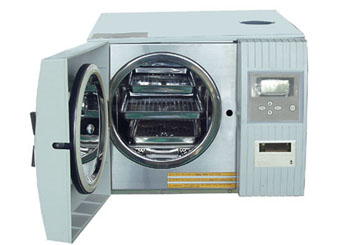 CLASS B - TMQ-210B 16L
Features:
According to the international standard Grade B of prEN13060 that is special for small steam sterilizer.

Seven kinds of programs for sterilizing, vacuum test and B-D test.

Reliable, high-efficient vacuum pump for thrice vacuum. Working degree of vacuum: -0.96 Bar.

Rapid energy steam generator.

Micro-printer for record and test.

LCD for the time, pressure and temperature.

Both steam and water is circulatory inside for the clean environment.

Automatic drying function after sterilized.

Produced with air filter (0.2µm) to prevent contaminate again.

Top quality modular and acid-proof stainless steel construction.

Manually operated door with safe lock, it is proved save, convenience and saving space.

Water saving system - low running costs.

Environment-friendly operation.
DESCRIPTION:
TMQ-210B&TMQ-300B are the new model of TMQ series with vacuum pump, micro-printer and microprocessor controlled. Both them are convenient and reliable sterilizer, rational capacity with cost-efficiency and small external dimensions. It was specially designed for Laboratory, Health Care centers, Dental as well as Out-patient clinics and as stand-by unit on operation departments. These models have a built-in tank for water supply. This type of sterilizer offers the trays and bracket to compart the space in the chamber as effective and convenient. Both them are safe and high efficient sterilizer.

Parameter:
| | |
| --- | --- |
| Model | TMQ-210B |
| Working pressure | 0.22Mpa |
| Working temperature | 134oC |
| Cubage | 16L |
| Inner dimension | F230¡Á365 mm |
| External dimension | W450¡ÁH395¡ÁL525 mm |
| Power | 2.7Kw 220V/50Hz |
| N.W. | 35Kg |
The product information will probably be updated without notice, if that happens, please refer to the latest technical material.