| | | |
| --- | --- | --- |
| | Products | |

Tabletop Steam Autoclaves

16L
CLASS N-TANGOR-16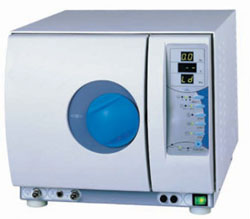 CLASS N - Tangor autoclaves 16L

Technical data:
Voltage in:220V 50HZ
Power: 1400W
Chamber capacity: 16 litres
Inside dimensions: ø238กม370mm
Outside dimensions: 645กม523กม496mm
Weight: 50kg
Features:
Adopting European N standard, with thermal vacuuming and drying function, it can be used for A type hollow instruments and solid instruments.
Thermodynamic vacuum guarantees elimination of cold air from the cavity and makes sure of perfect saturation of water dream.
Three sterilizing water quantity selections are respectively for different material, which embodies the individualized service.
Automatic malfunction detecting system makes easy maintaining.



The product information will probably be updated without notice, if that happens, please refer to the latest technical material.