| | | |
| --- | --- | --- |
| | Products | |

Tabletop Steam Autoclaves

12L
CLASS B-ZYG-B-12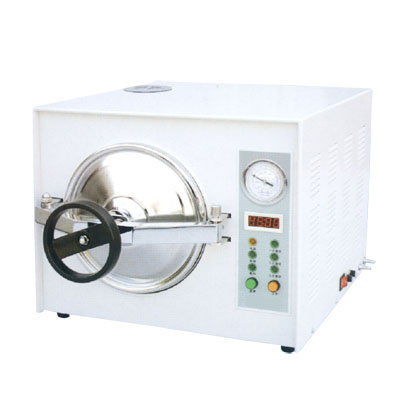 Technical parameters:
Power supply: 220V 50Hz
Power: 1200W
Volume: 12L
Inner cavity size: ¦Õ215x340
Package size: 430x610x390mm


The sterilizer in PRENI 13060 international standard has three pulse vacuum and drying function.
It is suitable for sterilizing different kinds of solid instruments without packing and their own covers,the instruments with holes,small multi-hole devices, Type A and Type B hollow instruments and the instruments with multi-holes and internal pipelines.It can clean efficiently the pipelines in the hollow instruments,such as the dental engines with all speeds.The saturated steam in high temperature imperegnates completely into every nook and corner.
Full automatic operations and the complete course is monitored and self-checked by computer
Sterilization working pressure is 0.11Mpa(121oC) and conforms to the sterilization standard of Ministry of Public Health.It can inactivate completely Hepatitis B virus,AIDS virus and stearothermophilus.
It can connect the external sewage system.
When the sterilization is finished,the machine buzzes.
The product information will probably be updated without notice, if that happens, please refer to the latest technical material.