| | | |
| --- | --- | --- |
| | Products | |

Tabletop Steam Autoclaves

25L
CLASS B-CT-ZJ-B FBX 24.8L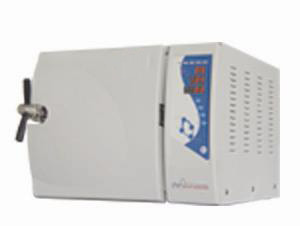 Name:
fast autoclave
Available length:
500mm
Chamber size:
250mm*510mm
Voltage:
220v/50hz
Power:
1500W
Features
Modern, beautiful appearance, high quality main equipments
European B standard, PC control and touch screen are adopted; self-check
Digital display, self- check;
Imported vacuum pump is equipped, 3- times pre-vacuum. Vacuum measurement reaches ?0.85Bar. The air in the clean ance of dressing, sterilizing bag and dentist hand device can be pumped out with 4 times pre-vacuum; ² Pulse behind vacuum drying system, the residue humidity of instrument after drying will not exceed 0.2%;
3-fixed, 1-customizable program, temperature time and vacuum times are adjustable;
AID virus and hepatitis virus can be killed
The threaded bar lock ensure safety.
The product information will probably be updated without notice, if that happens, please refer to the latest technical material.